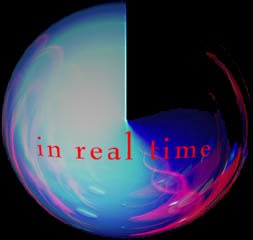 To preview and/or purchase The Gallery Soundscapes, Vol.1:
or Amazon
To preview and/or purchase The Gallery Soundscapes, Vol.2:

or Amazon
In Real Time is an instrumental, improvisation-based band which, while firmly rooted in rock, is subconsciously influenced by an array of musical worlds --from avant/atonal sonic experimentation to skewed blues to fractured jazz. IRT plays semi-organized pieces which have been developed entirely through group improvisations, as well as completely spontaneous works. From the atmospheric to the aggressive, from the melodic to the mutable, IRT strives to make music that is musically diverse and emotionally captivating.
At the core of IRT is the duo of Clive Smith (guitar, MIDI guitar, keyboards, laptop, devices) and Bob Kaus (basses, occasional guitar, devices), who first played together from the middle-70's to the early 80's in the band Conversion. While primarily a vehicle for Smith's original songs and more expansive compositions, Conversion also experimented with group improvisation – a rewarding exercise which, a decade later, inspired the formation of In Real Time.  (Kaus can also be heard on Smith's debut solo CD, "Clever Animals," a collection of original songs, almost all of which are non-instrumental.)
IRT made its well-received live debut at CBGB's in New York City. Future In Real Time activity will include more live performances as well as potential work on film and TV soundtracks.
This site will keep you posted on live dates.
Here's what the average person on the street has to say about In Real Time:
"With moods ranging from mysterious to meditative, from pensive to passionate, from reserved to raucous, the music is like a soundtrack to a subconscious that's always on the verge of breaking through to consciousness, unfolding with the self-referencing logic of a dream. Melodies and rhythms arise out of an ever changing ambient stream of textured pitch and noise later to be reabsorbed and then to emerge once again in some new, mutated form."